Why join?
If you live in Monks Orchard/Shirley are become a member of your local residents' association. You do not have to do anything, your membership alone supports the work of our Association, as the more members we have the more decision makers must listen to us. So if you like the work we do in Monks Orchard/Shirley, we are a pretty active bunch…..
Keeping up to date on issues that affect Monks Orchard/Shirley and sharing information with members.
Representing members on a whole raft of issues including planning, licensing, health, council spending, policing, heritage, town centre improvement and more.
Attending stakeholder meetings and influencing decision making on your behalf.
Please sign up. The small subscription fee makes a huge difference to the success of the Association. As a member you will also receive our MORA magazine four times a year. So all you need to do is sit back, read our magazine and let us know your views about local issues.
Residents membership
Membership is just £4 per year per household and £2 per year for Senior Citizens.
Affiliated Members
We do have some Affiliated Members, from outside our area. They receive the magazine but have no voting rights.
The Area we represent
Map of the MORA boundary area (click to enlarge):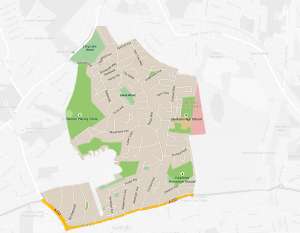 A full list of the Road Names & Postcodes can be downloaded as:
Excel Spreadsheet containing Road Names & Postcodes
PDF File containing Road Names & Postcodes
Membership Request Form