Support MORA
We welcome volunteers who take an interest in local activities, who may already contribute to a local authority working group, or who feel passionate about a particular area, to report on residents' concerns.
Do you have some spare time? Would you be willing to monitor a local issue and feedback to the Association? You may even like to contribute to MORA's magazine.
Many hands make light work; the Association relies on a variety of volunteers making small contributions. Helping with your local community does not require you to join the committee or attend committee meetings unless you wish to.
We would be keen to welcome you informally.
Join the MORA committee
We always welcome new Committee members. Committee members must be nominated and officially elected at our AGM in April. However new members can be 'co-opted' in by the existing committee at any time.
The number of ordinary committee members is unlimited. Ordinary members carry out various functions and have a range of specialisations.
History
Monks Orchard Residents' Association (MORA) was founded in 1923 and since then has been central in ensuring that, as pressure grows for more housing developments and in other decisions to be made, residents' concerns are always at the forefront. Merely complaining about issues amongst ourselves would achieve little, yet with the advent of Localism Act Legislation, we have more influence when we combine our efforts to produce a strong voice from a recognised Residents' Association. We currently represent over 2,000 households, who live both in Shirley and Ashburton (the historical area of the Monks Orchard Ward), plus a small area of Heathfield Wards, and we publish a quarterly magazine, which is distributed by our Road Stewards. We are also represented on the new Croydon Residents' Group Forum to put more authoritative pressure on the local and national authorities.
Monks Orchard Residents' Association has a vital role to play in collecting and forwarding the views of local residents to necessary authorities. A well-organised, collaborative residents' association carries considerable weight when dealing with authorities. It is essential that MORA continues to thrive and expands its membership to represent your views into the new millennium, and as long as we, as an Association, are active, we will continue, with your help, to do so.
The area we represent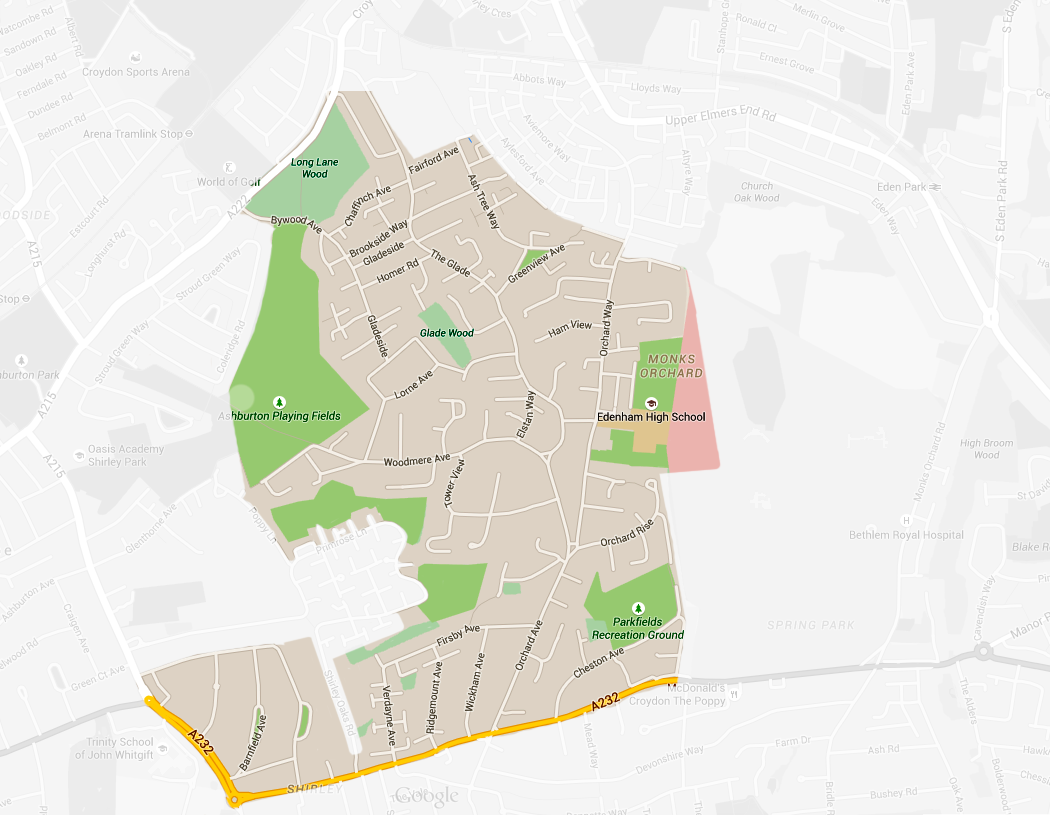 Social Media
The MORA social media sites are places where we encourage interaction and discussion between members, residents, affiliates, councillors, friends, in fact anyone interested in MORA. The views and opinions expressed on social media are obviously personal views and perceptions of the individuals concerned and are not necessarily representative or supported by MORA.